6amTech's most popular product on CodeCanyon, 6Valley, has been upgraded recently to version 14.1. It's great news for all eCommerce business enthusiasts or software developers who work with 6Valley eCommerce solutions.
Why is the new version of 6Valley so important? Keep reading to find out!
User App Redesigned
As 6Valley currently has two amazing themes, Default and Aster theme, the new 6Valley user app is redesigned according to the themes. In the new 6Valley 14.1 release, you will get the user app in fresh design with various themes compatibility. This means the user app will also be compatible with future theme releases!
To change the theme, the admin should do the following:
Log in to the 6Valley admin panel
Go to System Setup > Theme Setup
Choose Theme: Default to Aster
Here's what to remember while changing the 6Valley theme:
All promotional banners from the website and user app will be cleared once the theme is changed. You need to input all the banners again for each section.
There may be some features that are not available in other themes. In these cases, you have to set up data for those features after changing the theme.
When the admin switches to a new theme, customers will see a different interface on the user app & website.
Here, the 6Valley user app will look like this after switching from the Default Theme to Aster Theme:
If you have a niche-based eCommerce such as gadgets & electronics, grocery, or fashion & clothing, or you just simply want to give your end-customers a more personalized and premium user experience, then this feature will be a game changer for you.
Compatible with New System Addon
Many of you already know that 6amTech has launched its first system addon for major products: 6amTech Payment & SMS Gateway Addon. The addon is a great tool for those who want to integrate various payment systems and SMS gateways into their 6Valley solution.
To integrate this system addon, you need to do the following:
Step 1: Purchase the Payment & SMS Gateway Addon from CodeCanyon.
Step 2: Log in to your 6Valley admin panel and scroll down to 'System Setup.'
Step 3: Go to 'System Addons' & click on 'Browse File.' Upload the addon script from your computer that you purchased earlier. Or, you can simply drag & drop the file here.
Step 4: Click 'Upload' to save the changes. And you're done!
However, here are the user-wise features that you can find in the latest version of 6Valley [14.1]:
For Admin & Sellers
For Customers
For All Users
– Edit Delivery/Billing Address
– Minimum Order Amount
– Dynamic URL
– Add Fund to Wallet
– Bonus on Add Fund
– Guest Checkout
– Free Delivery
– Reorder from Order History
– Refer & Earn
– Apple Login
– Order Delivery Verification
– Flutter v3.13.6 (All Apps)
Table: 6Valley v14.1 Feature List
Let's dig a little deeper into these features and their functionalities, shall we?
Wallet, Funds, and Bonuses
Keeping your customers satisfied is what 6Valley does better. Because we know a happy customer keeps on coming to your business. That's why we've introduced two incredible features to help retain your customers on the latest 6Valley v14.1.
Add Fund to Wallet
Now, your customers can add funds to their 6Valley wallet from other 3rd party payment methods. As an admin, you can enable/disable the feature and add minimum and maximum fund amounts from the backend.
The benefit? Now, your customers will never hesitate to purchase a product from your eCommerce business due to lack of money. They can easily add funds to their wallets and continue shopping!
Here's a screenshot of the 6Valley default theme frontend (Add Fund to Wallet):
Bonus on Add Fund
Another interesting feature is the 'Add Fund Bonus' feature. As an admin, now you can make sure your customers never feel out of balance by offering the 'Bonus on Add Fund' feature. How does it work? Let me explain.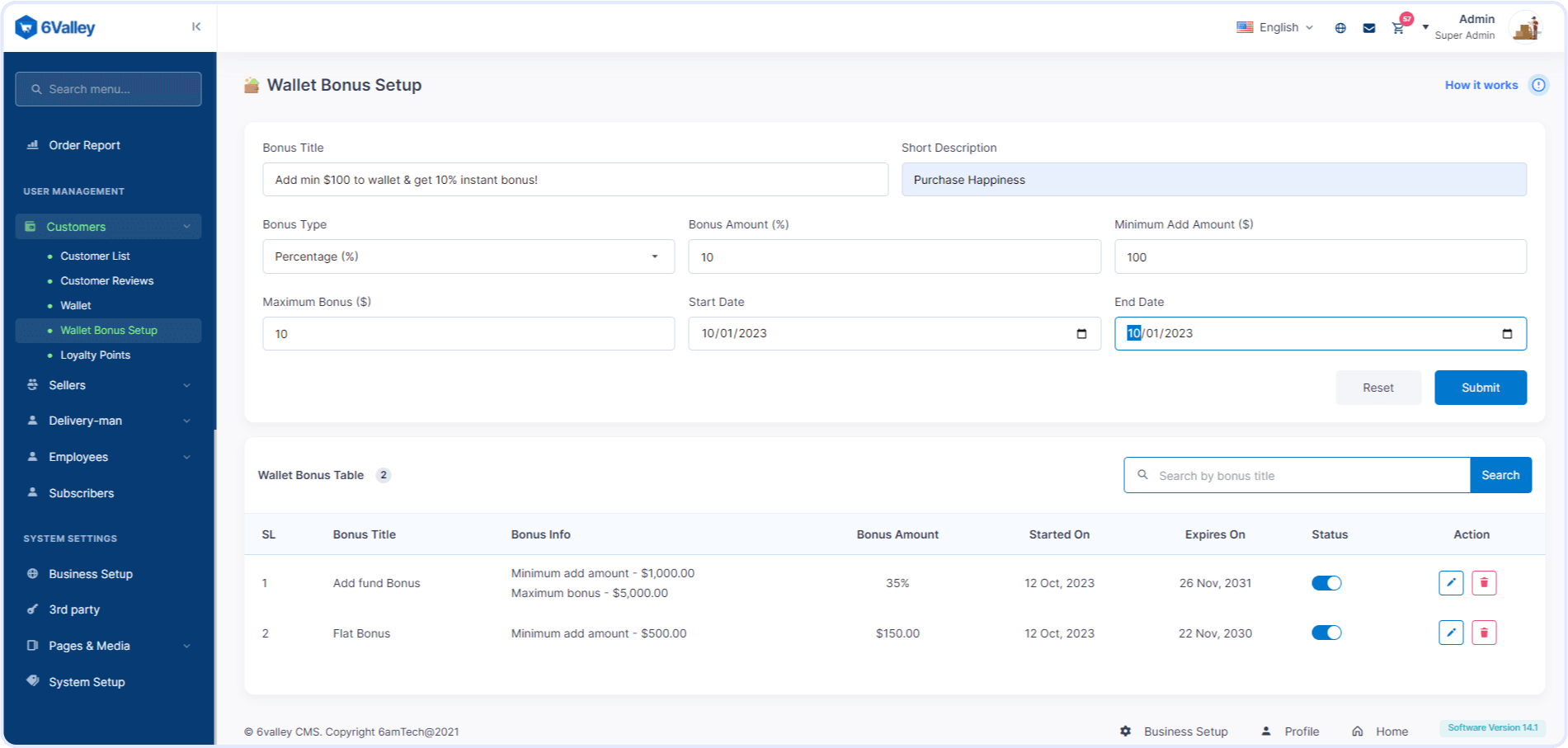 Suppose there's a big sale coming up, or you have a list of inactive customers. Now, you sent an offer to them saying, 'Add min $100 to your wallet & get a 10% instant bonus!'. Seeing this message, many customers will return to your eCommerce site and add money to their wallets from a third-party payment gateway. As they now have money in their wallets, they'll be more likely to make a purchase rather than stay idle.
Guest Checkout
Customers can now browse through your eCommerce site and make purchases without providing any login or sign-up credentials. Thanks to the 'Guest Checkout' feature, shopping with 6Valley is now more convenient.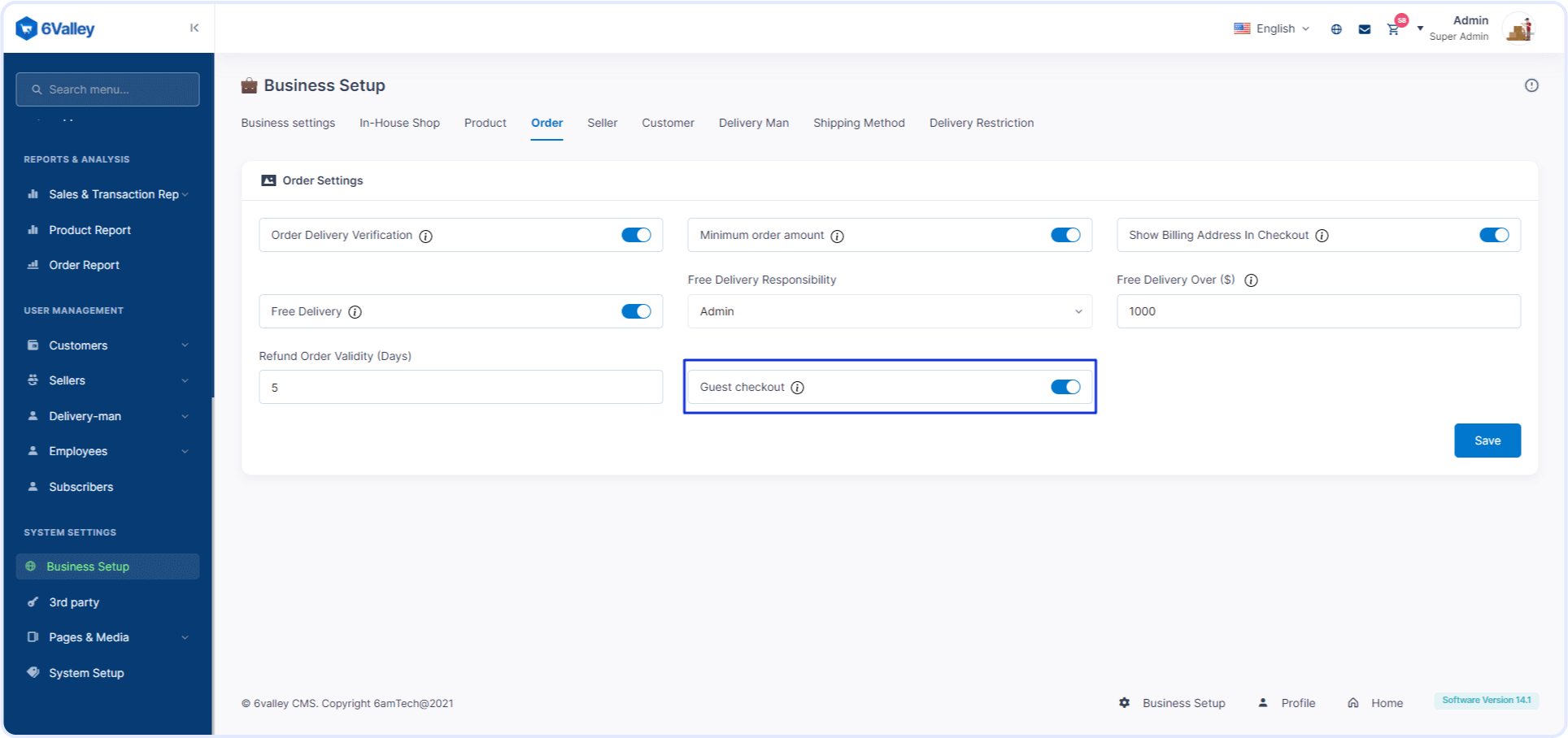 As an admin, you can control this feature and enable/disable it anytime you want from the backend.
Free Delivery
The admin can enable the 'Free Delivery' feature to motivate customers to purchase more and more. For this, admin can enable the free delivery feature from the admin panel and set a minimum purchase amount. Customers automatically receive free delivery when they reach or cross the minimum purchase threshold.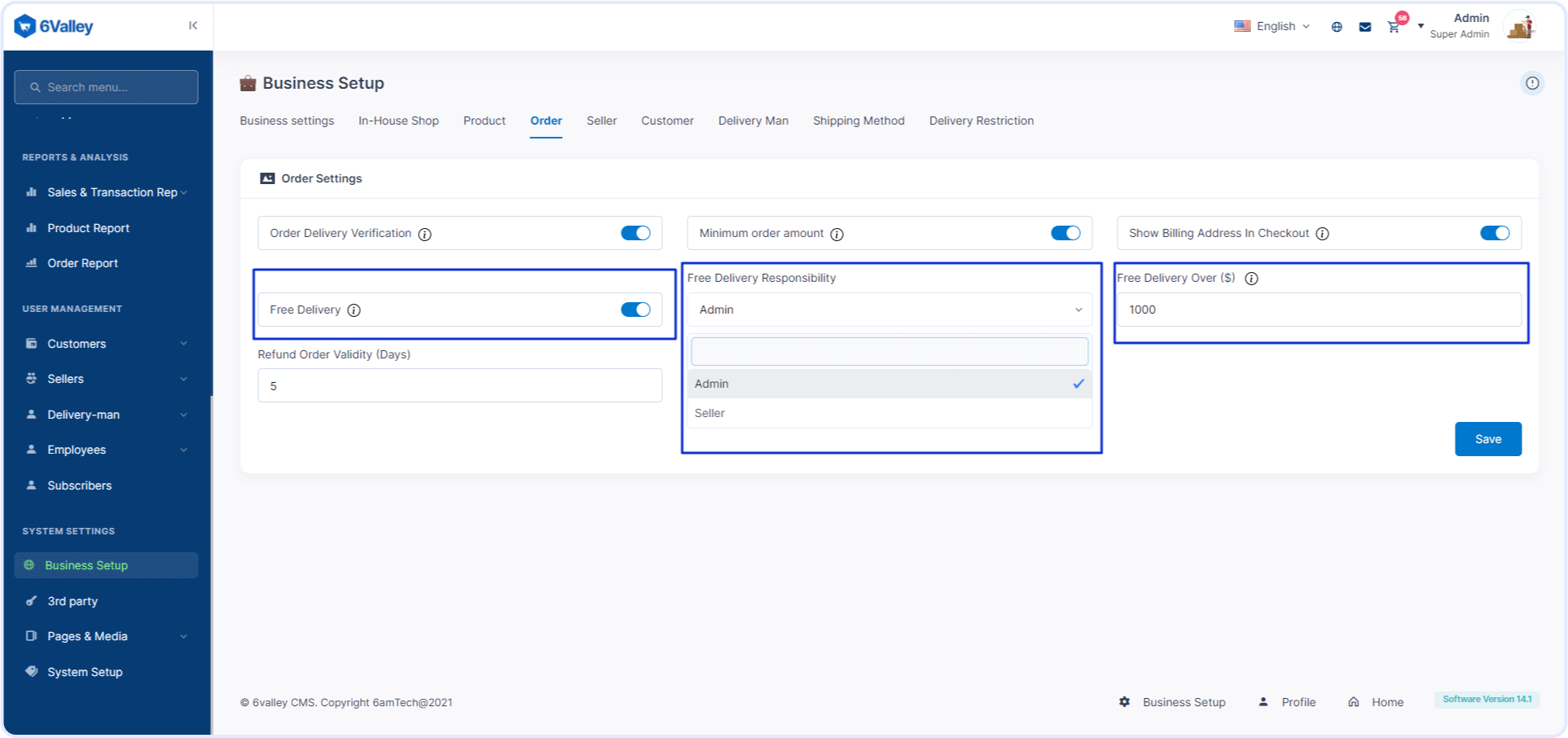 Not only this, admin can also define who'll be responsible for the free delivery: admin or seller? If the admin is selected, then admin must bear the cost of the free delivery. If the seller is selected, the responsibility is upon the related seller from where the customer purchases the products.
Here's how the customers will see this feature: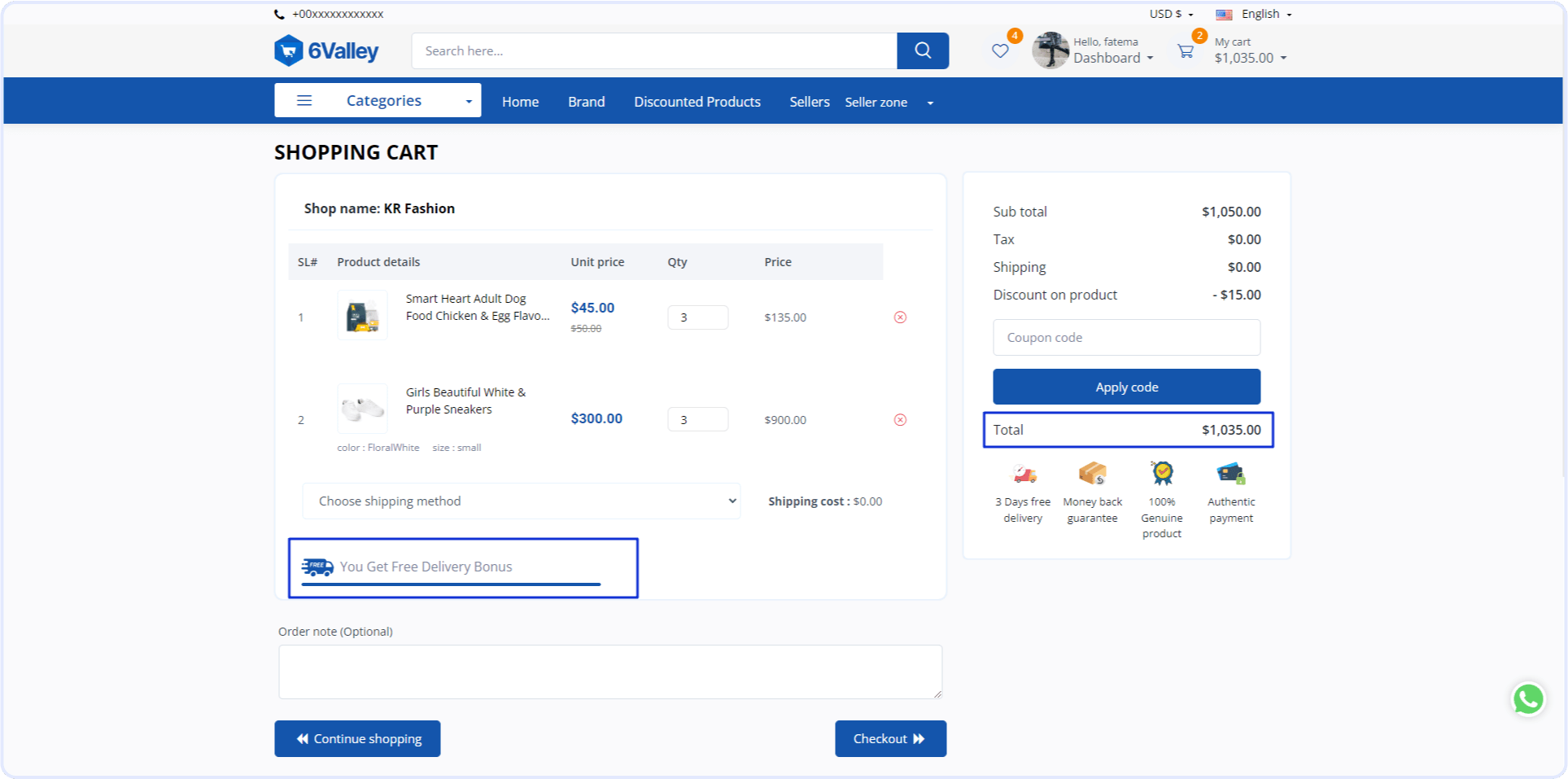 Here, on the screenshot, you can see that the customer has reached the $1000 purchase amount and thus got a free delivery bonus.
Reorder from Order History
If you have a list of customers who have only made one purchase till now, this feature will make them keep coming back to your business. Now, your customers can purchase the same product from the order history and without having to search for the same product all over again.
Refer & Earn
Build your customer base even further with the new 'Refer & Earn' feature of the new 6Valley v14.1 release. So here's how it works: every customer has their unique referral code in their profile. As an admin, you can enable/disable the referral-earning feature and set earning points for each referral.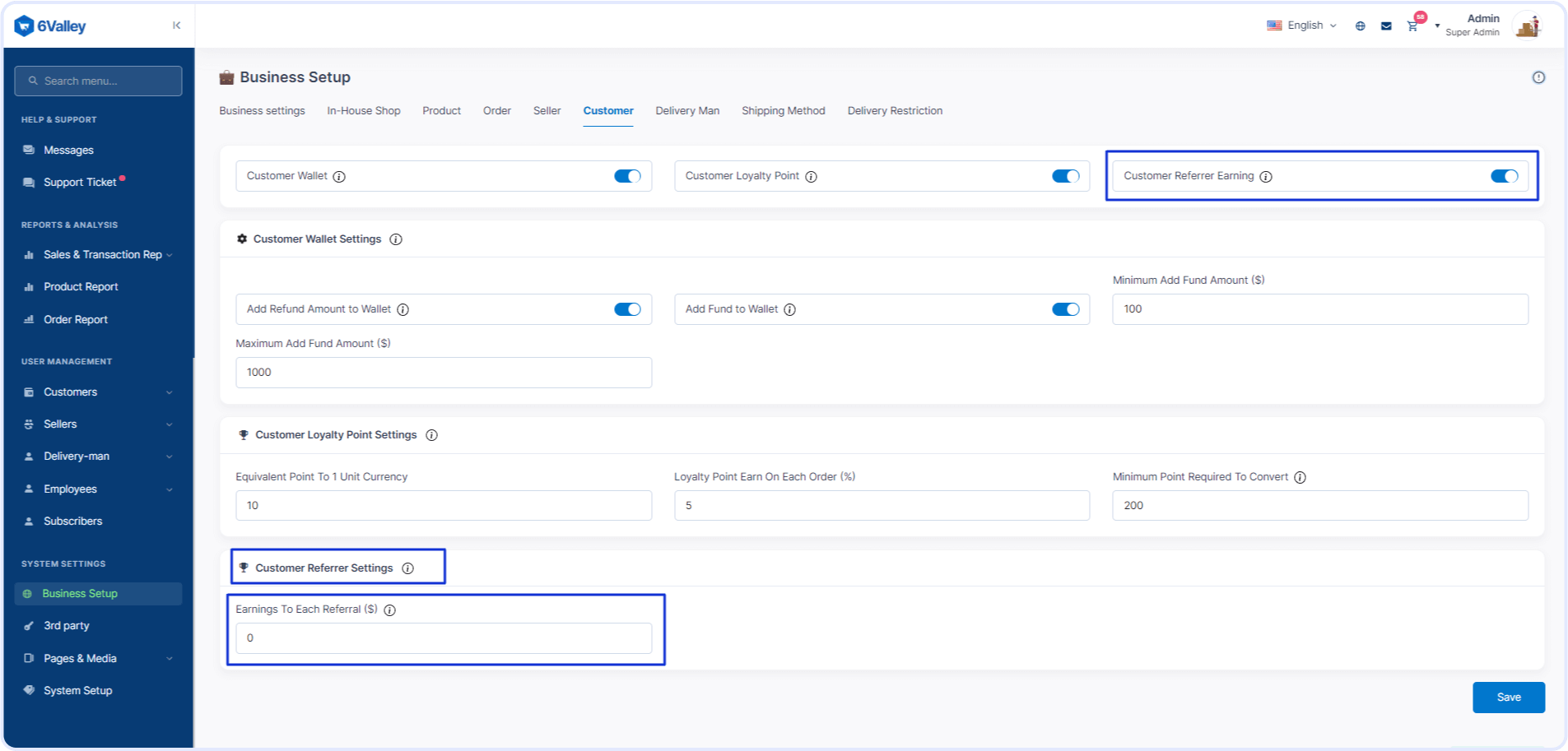 In the user web or app, a customer can simply copy the referral code and send it to their family and friends. What's more, they can directly share the code via Whatsapp or Gmail. When a new user makes a purchase using the referral code, the customer will receive the referral bonus point to their 6Valley wallet.
Check out the refer & earn feature in the user web:
Login with Apple ID
From now on, Apple users can log in to their 6Valley customer account just like Facebook/Gmail users. For this, the admin needs to enable the Apple login feature and set up credentials.
As a result, customers can directly log in to their account using their Apple ID.
Minimum Order Amount
If the 'Minimum Order Amount' is enabled, the customers must place an order within the least amount of products that the admin or sellers define.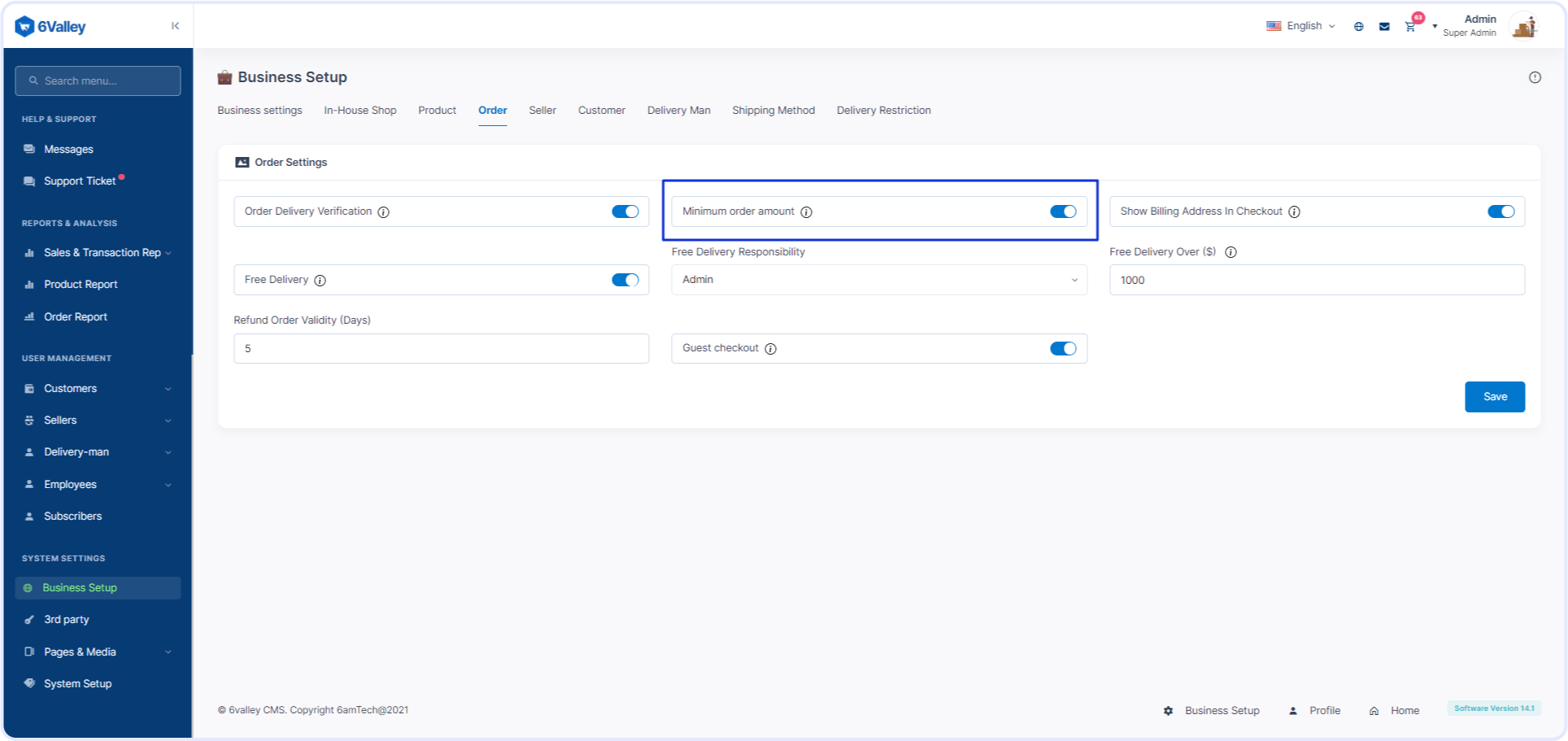 Once the admin enables this feature, both sellers and admin can set the minimum order amount while creating a new product from the product management section.

So when a customer wants to order such a product, they'll see the minimum order amount notice while adding it to the cart.
Order Delivery Verification
It's now possible to ensure that the order is ideally delivered to the right address and customer via the 'Order Delivery Verification' feature. If the admin enables this feature, the deliveryman must upload a picture to the deliveryman app as proof of delivery.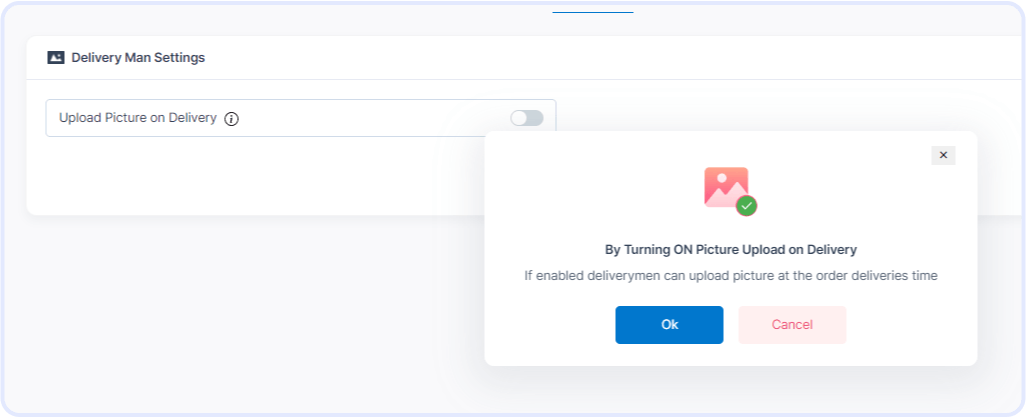 After the deliveryman uploads the picture, other users can see it from their respective panels and apps, such as the admin, seller, and customer.
Dynamic URL
There's one more amazing feature which is 'Login URL Setup.' With this feature, the admin can create a unique URL for their employees and separate the admin login credentials.
With this feature, admin can keep their account secured and easily log in to the employee's accounts using the dynamic URL.
Edit Delivery/Billing Address
Customers might sometimes provide a wrong billing or delivery address during checkout. Or maybe want to change the address after paying. What will you do?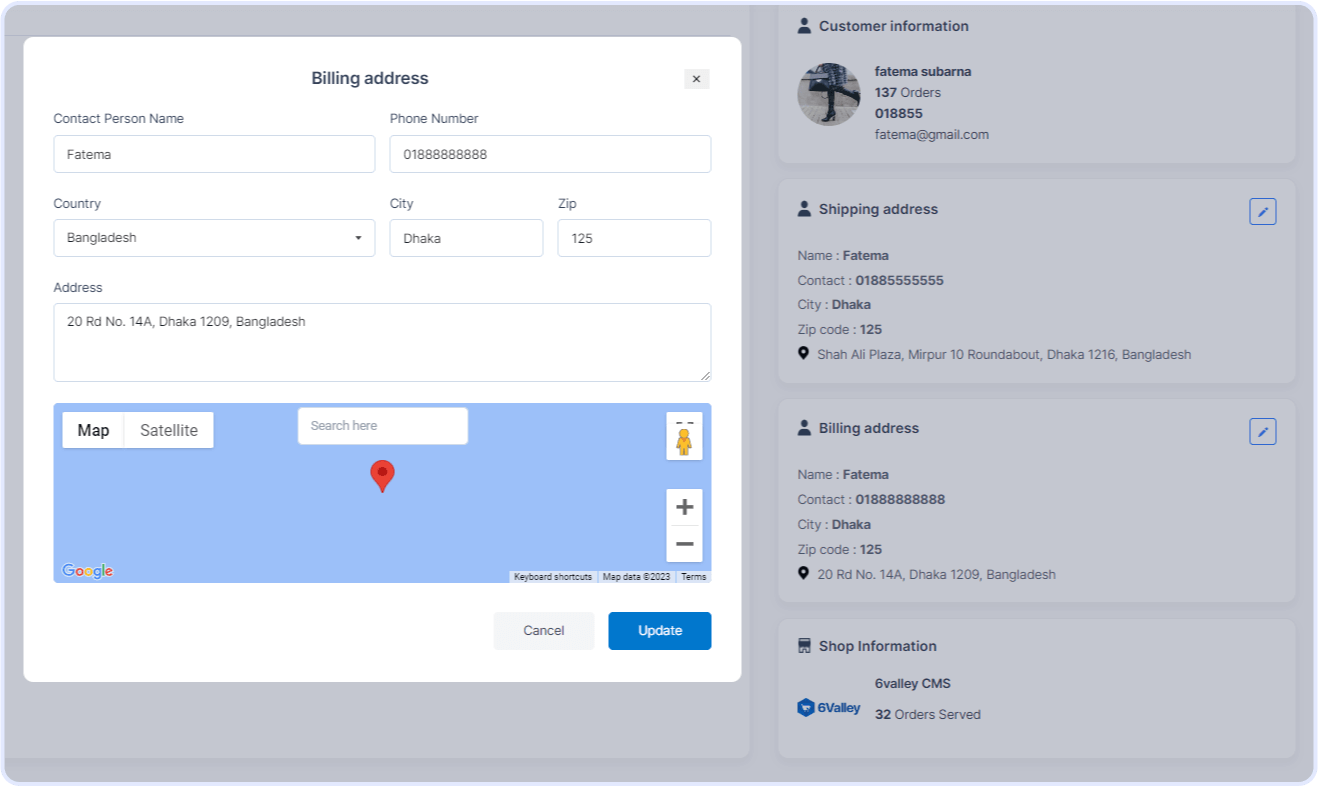 To resolve such inconvenience, team 6Valley has introduced 'Edit Billing Address.' Now, admin can change the billing address upon customer's requests or in emergencies, even after order placement.
Other Improvements
Apart from the major feature introduction, team 6Valley has made some necessary improvements:
Redesigned the user app and made it compatible with all web themes
Made the apps compatible with Flutter's latest version, 3.13.6
Fixed translation & other small issues
Follow us for the latest release news of all 6amTech products to stay up-to-date. Stay tuned till next time.