Hello, 6Valley users and enthusiasts out there! There is an exciting announcement awaits for you. A premium theme is unveiled for 6Valley Multi Vendor eCommerce CMS! Now, you can apply this theme and let your customers have a brand-new look & feel. Let's find out more about this new addon theme–
What is the 6Valley Lifestyle Theme?
The Lifestyle theme is an exclusive addon theme for 6Valley. This theme is designed especially keeping the lifestyle industry in mind. It brings a new look and design with it to provide your customers with a trendy user experience. You can use this theme aside from the default and Aster theme.
Sunny Sultan, the CEO of 6amTech, stated, "At 6Valley, we believe in bringing style and functionality together. With the 6Valley Lifestyle theme, we aim to redefine how customers shop online, making it more elegant and seamless than ever before. We're excited about the possibilities it opens up for our users and we will continue this development for them".
New Theme, New Business Scopes
You can turn your 6Valley into a paradise of the fashion & lifestyle industry by applying the 6Valley Lifestyle Theme.
This theme is designed for–
Apparel and Clothing
Footwear & Accessories
Beauty and Cosmetics
Jewelry and Watches
Bags and Luggage
Fitness & Wellness
Electronics & Gadgets
Designer Products
And the list goes on… You can build your eCommerce empire in any lifestyle industry.
Top Features of 6Valley Lifestyle Theme
6Valley Lifestyle theme has all the essential features you need to run your business. Here are the top features of this theme–
Dynamic Search Bar
Customers can find products quickly with the smart search bar in the 6Valley Lifestyle theme. They just need to type what they're looking for and it shows up instantly! Customers can even narrow down their search by selecting a category. Plus, it suggests similar items while customers searching for a product.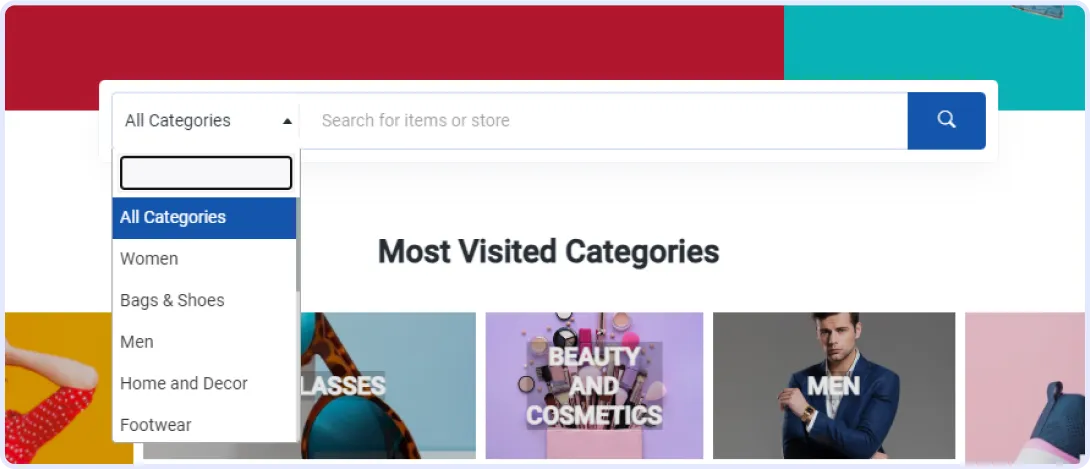 Promotional Banners
In the 6Valley Lifestyle theme, you have lots of places to showcase your promotions and new products! There are different banner sections like the Header, Footer, Main area and even Pop-up banners. This means you can share exciting deals and new arrivals easily, catching the attention of your customers.
Smart Product Filtration
The 6Valley Lifestyle theme comes with a powerful filtering system. It lets customers sort products by categories, brands, prices, ratings, sizes and colors. This means shoppers can easily pinpoint exactly what they want, making their shopping experience super convenient!
Seller Profile with Reviews
Customers can check the seller's profile and read reviews about their shop. This helps customers learn more about the products the shop offers and the ratings other buyers give. It's a great way to find trustworthy sellers and gives customers confidence in their choices.
Category & Search Tags
Customers can apply multiple filters to refine their search and all the selected filters will be displayed at the top of the search results. These filters can be easily added or removed to customize the search results according to their preferences. Additionally, when customers view products, they'll find category tags linked to each item, making it simpler to explore related items within the same category.
See Available Payment Options
In the footer section, customers can easily find all the payment methods offered in the system. This handy feature saves customers time by letting them know the available payment options without going through the checkout process.
Product Details Page
Customers will find all the essential details about the product, like its color, size, materials, quantity, estimated delivery time, shipping cost, warranty policy and other customer ratings & reviews.
Change Quantity from Cart
Customers can easily adjust the quantity of products directly from their shopping cart. This simple change not only saves time but also makes the shopping experience much smoother and more convenient for everyone.
View Discounts from Wishlist
When products are on sale, customers can easily spot the discounts right from their wishlist. This way, they can easily grab their favorite items at a great price without any hassle.
Newsletter Signup Option
At the bottom of every page, there's a newsletter section. By entering their email addresses, customers can stay connected and learn about discounts, offers and events before anyone else. It's the best way to be the first to know about exciting deals.
Product Comparison Page
Customers can easily compare two products if they're unsure about what to buy. Comparing products helps them make better decisions and boosts their confidence in their choices.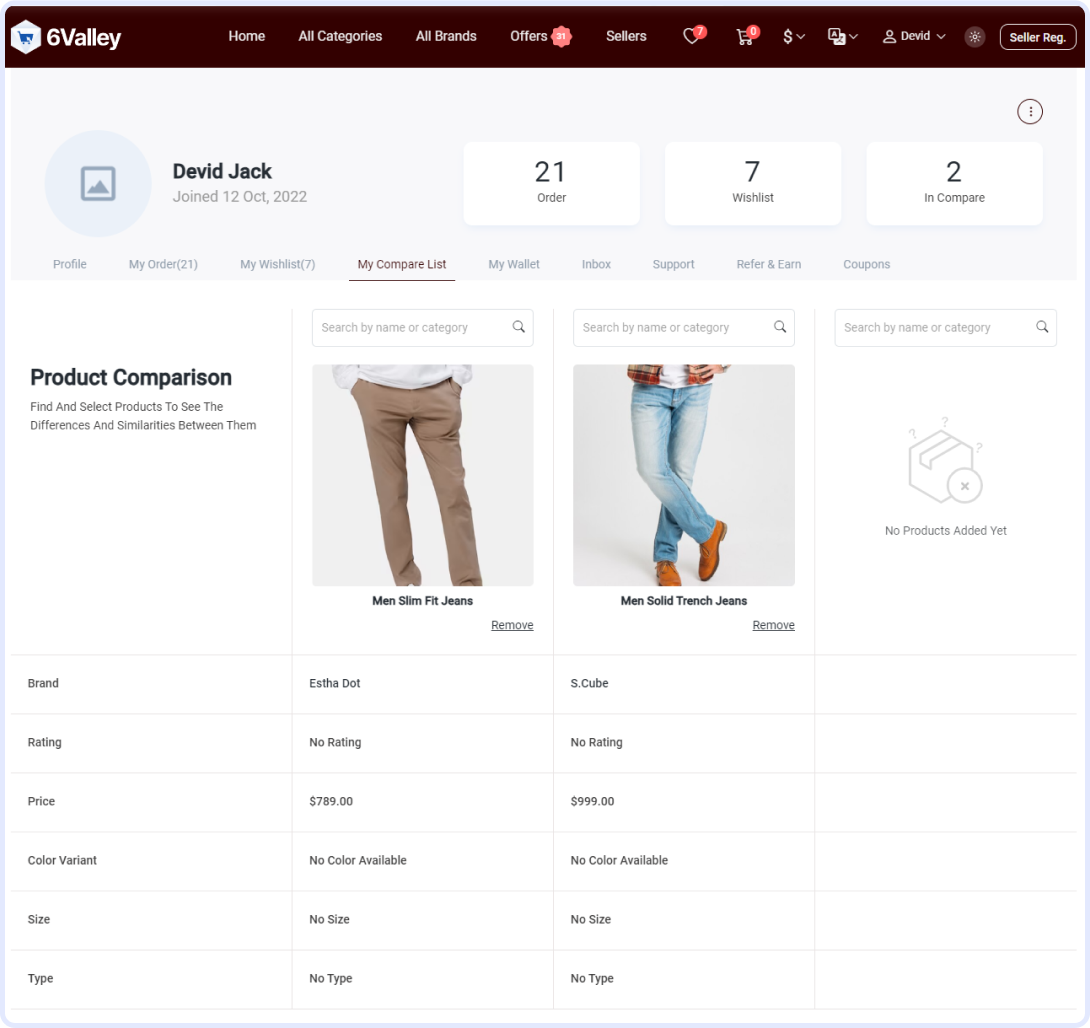 Multi-language with RTL
The theme allows customers to use various languages, including those that are written from right to left, such as Arabic, Hebrew, Persian, Urdu, Kashmiri, Pashto and more.
Light & Dark Mode
Customers can easily switch between light and dark modes with the built-in Dark Mode feature, choosing the appearance that suits their preferences.
Customer Profile with Dashboard
In the customer profile section, customers can view their current and past orders, wishlist, compare list, wallet, inbox and support section. There's also a dashboard displaying their orders and wishlist for quick access and management.
How to Add 6Valley Lifestyle Theme and Apply It
To give your 6valley a fresh new look, here are the steps that you need to follow–
Purchase the 6Valley Lifestyle Theme first from CodeCanyon.
Go to the Downloads section of your CodeCanyon Dashboard.
Download the product from there (a .zip file will be downloaded).
Sign in to the admin panel of 6Valley.
Scroll down the left menu bar and click on System Setup from the System Settings section.
Go to the Theme Setup tab, where you'll upload the new 6Valley Lifestyle Theme.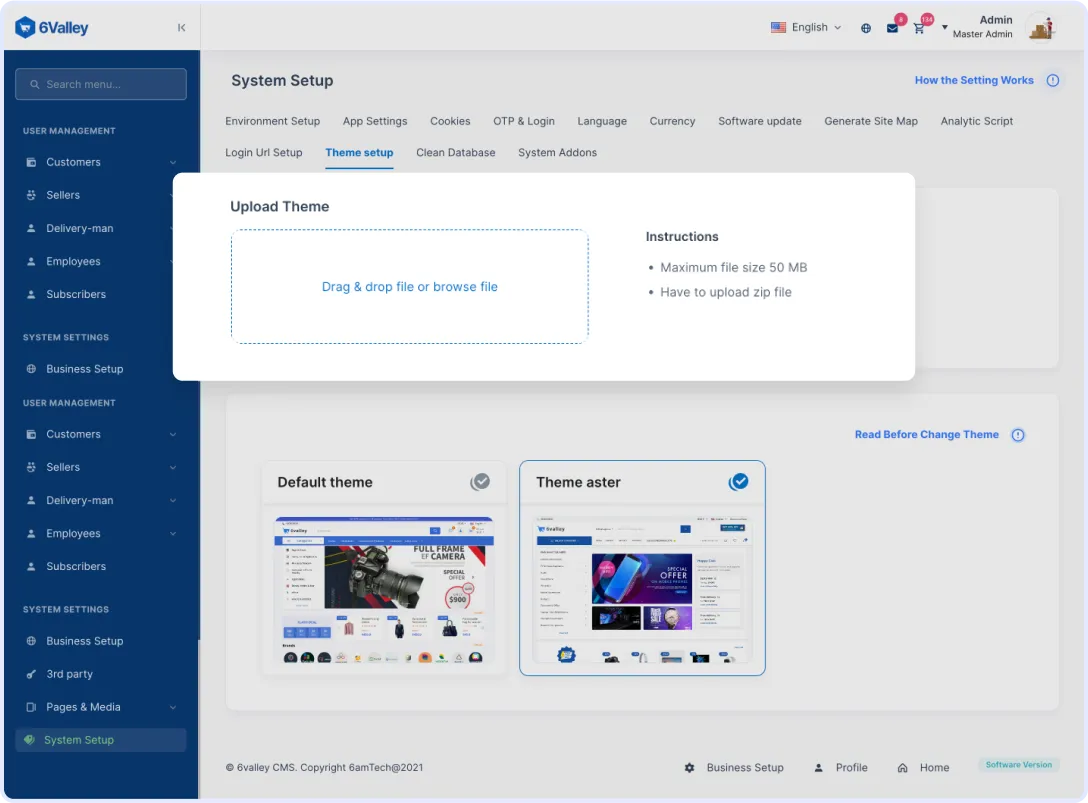 Drag & drop or browse the Lifestyle Theme ".zip" file and click on the Upload button to start uploading.
Click on the 6Valley Lifestyle Theme.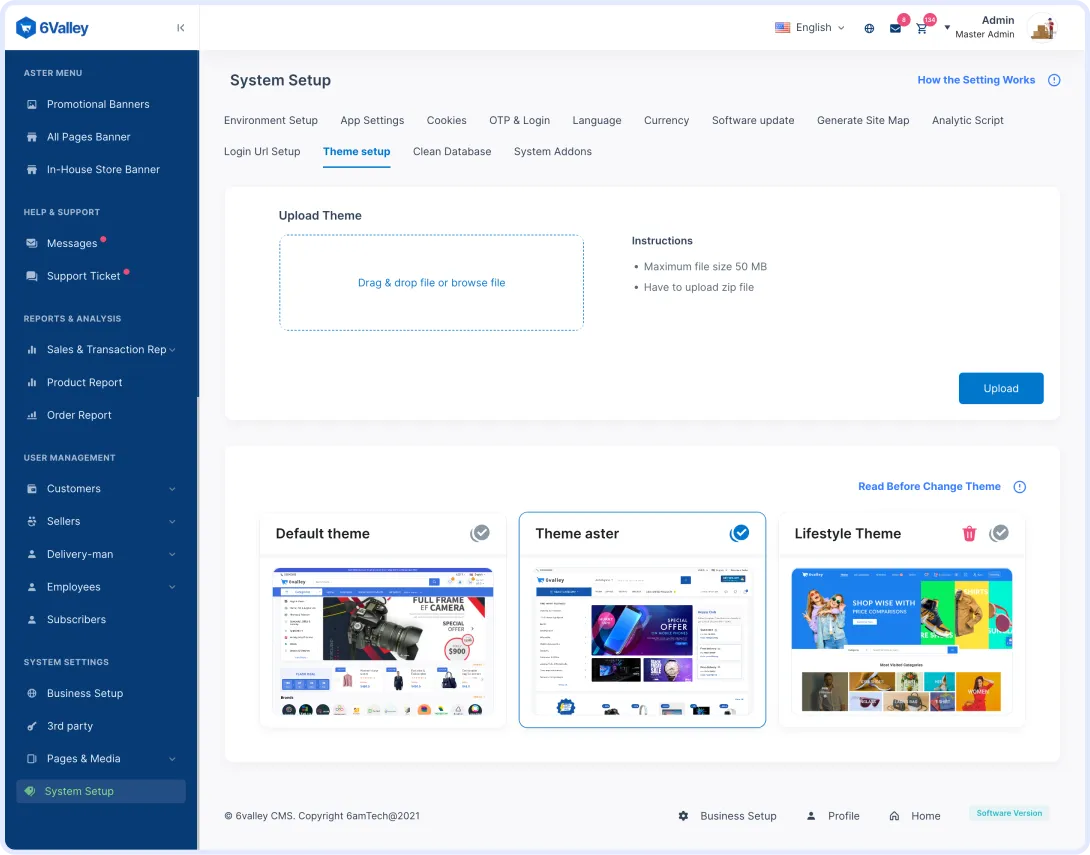 Choose Yes from the popup confirmation dialogue box after clicking on the 6Valley Lifestyle theme.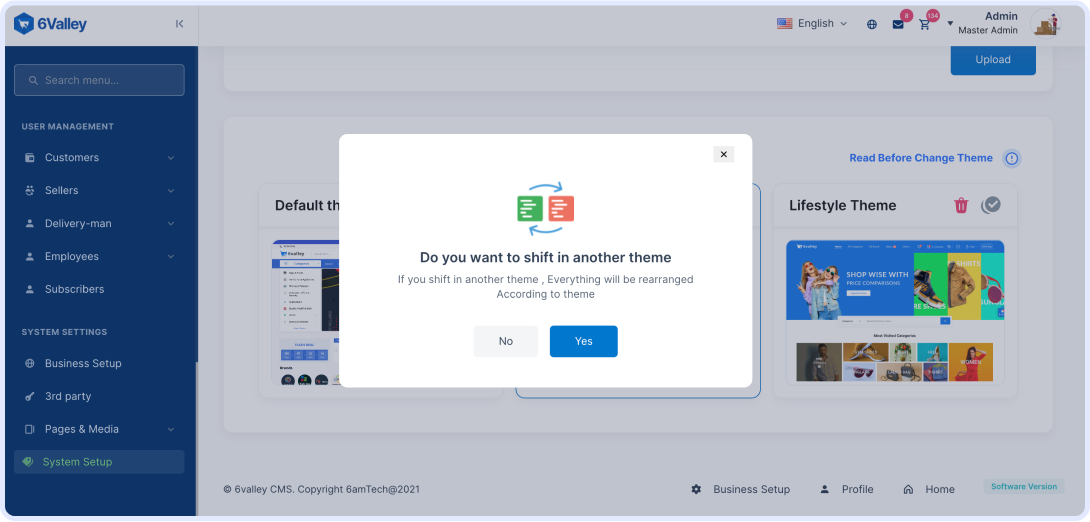 Enter CodeCanyon Username & Purchase Code and click on Activate.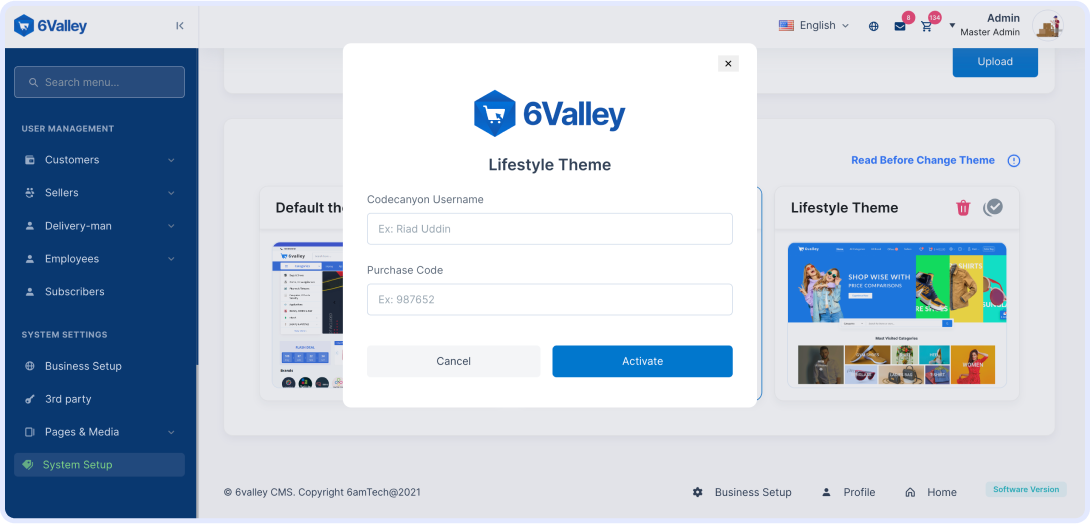 Note: After activating this theme, previous themes (Default or Aster will be disabled in the system).
That's all about the new theme for 6Valley Multi Vendor eCommerce. This theme can help businesses based on 6valley and planning to switch to the lifestyle genre with its eye-catchy design and useful features.
Follow 6amTech to know all the latest news about our product's releases and updates.