In today's digital age, establishing an online presence is crucial for any business aiming to tap into the global eCommerce marketplace. For entrepreneurs looking to dive into eCommerce, choosing the right platform to build your website from scratch is a pivotal decision.
This article showcases the 5 best platforms to build an eCommerce website you might consider before building your eCommerce website and helps you make an informed choice.
The Recommended Platforms to Build eCommerce Website
When it comes to building a flexible and powerful eCommerce website, you have several excellent options at your disposal. Each platform—6valley, Shopify, WooCommerce, Webflow, and Hexacom—offers unique advantages tailored to different needs.
In this discussion, we'll explore how these 5 Best Platforms to build an eCommerce website:
6valley
6valley is a complete eCommerce ecosystem if you want to start a multi-vendor eCommerce business. It's an entire eCommerce business management system with essential panels and mobile apps. It offers a one-stop solution for multiple shops and stores, ranging from digital and fashion stores to sports, home & living, health & beauty, and more.
This package proves highly beneficial for business owners involved in e-commerce, electronics, online delivery, and multi/single-vendor online businesses. Its mobile-optimized design ensures an exceptional shopping experience for customers.
This script serves as a modern solution for online marketplaces, with a clean and trendy design that enhances the appeal of your online store. It simplifies the purchasing process, ultimately boosting your conversion rates.
6Valley is built with Laravel for the admin and seller panel. The user website and mobile apps, such as customer, seller, and deliveryman, all of them are built using Futter.
Additionally, it's available on iOS and Android, thanks to Flutter's cross-platform development capabilities.
Features:
A complete multi-vendor eCommerce solution for managing multiple shops and stores efficiently.
Multiple themes for different eCommerce niches.
Benefit from three mobile apps – User, Seller, and Deliveryman (a premium addon), all developed with Flutter for a seamless mobile experience.
Clean, well-structured, and maintainable code.
100% responsive design, ensuring a great user experience.
Free built-in POS for manual order handling from the admin and seller panels.
Pros and Cons
Pros:
Ideal for both physical and digital products.
Easy to customize source code that is clean and well-structured.
Central admin panel dashboard to edit, manage, and monitor the entire business.
Two business models are available: single or multi-vendor. Admin can choose a single vendor or multi-vendor business model to start.
Add, edit, and manage in-house products, seller shops, and branded items.
Cons:
Extensive features may be overwhelming for small businesses or startups;
Running a multi-vendor eCommerce system with mobile apps can be resource-intensive regarding server capacity and maintenance.
Shopify
Shopify is a leading name in the eCommerce platform industry, renowned for its user-friendly interface and comprehensive functionality. It is an ideal choice for entrepreneurs seeking a ready-made solution. The platform provides an extensive selection of themes and templates that are fully customizable, allowing you to tailor them to match your brand perfectly.
This level of flexibility and adaptability ensures your brand identity shines through. With Shopify, you can effortlessly manage your inventory, track orders, and handle customer service from one centralized location.
Moreover, Shopify's built-in SEO features help improve your website's visibility on search engines, driving more organic traffic to your store. It facilitates a variety of payment gateways, guaranteeing a hassle-free and secure shopping experience for your customers.
The platform's scalability allows your eCommerce website to grow along with your business, making it a viable choice for eCommerce businesses of all sizes.
A quality platform allows seamless integration with social media channels, but Shopify goes a step further by enabling customers to shop directly on Instagram or TikTok.
Regarding pricing, Shopify offers several plans to cater to different budgets and business needs. Although it might be slightly costlier than some other platforms, its efficiencies and features justify the investment. With Shopify, you're not just building a website but an online business.
Features:
Navigating through Shopify's backend is straightforward, even for beginners.
Shopify provides all the tools to start, run, and grow an eCommerce store.
Track orders, manage inventory, and handle customer service all from one place.
Improves your website's visibility on search engines, driving more organic traffic.
Provides a safe and convenient shopping experience to the customers.
Shopify grows with you as your business grows, accommodating increasing traffic and sales.
Customized to match various budgets and cater to diverse business requirements
Pros and Cons
Pros:
User-friendly interface that's easy for beginners to navigate.
Comprehensive eCommerce features, with all necessary tools provided.
Offers customization with a variety of themes and templates.
Built-in SEO features that increase website visibility.
Supports multiple payment gateways for customer convenience.
Scalable platform that grows with your business.
Centralized management of orders, inventory, and customer service.
Cons:
Slightly over-priced than some other eCommerce platforms.
Certain advanced eCommerce features are only available in higher-cost plans.
Customizing beyond the provided themes and templates may require coding knowledge.
Recommended Shopify Themes and Apps
There are tons of themes and apps available for Shopify that you can use to enhance the functionalities of your online store.
Shopify Themes
Mavon
Mavon is a modern and versatile Shopify theme designed for various types of online stores. Its clean and user-friendly design and powerful eCommerce features make it an excellent choice for businesses looking to create an appealing and functional online presence.
Lezada
Lezada is a stylish and trendy Shopify theme tailored for fashion, apparel, and lifestyle brands. With its sleek design and comprehensive e-commerce capabilities, Lezada helps businesses in the fashion industry showcase their products effectively and provide an exceptional shopping experience to customers.
LeArts
LeArts is a Shopify theme designed with a focus on aesthetics and creativity. It's an ideal choice for businesses in the arts and crafts niche, providing a visually appealing platform to showcase unique and artistic products.
Corano
Corano is an elegant Shopify theme tailored for jewelry stores, offering 08 unique homepage variations, including RTL support. It's upgraded to Shopify Online Store 2.0, enabling advanced functionality like adding sections to all pages and streamlining store management without coding or workarounds.
Shopify Apps
HelpZenith
HelpZenith offers a comprehensive customer service solution with effortless ticket management, including email-to-ticket conversion, detailed reporting, workflow automation, and a user-friendly customer portal. It streamlines support processes, enhances productivity, and ensures exceptional customer satisfaction.
TikTok
The TikTok App for Shopify offers seamless social media access to a vast and engaged user base. It simplifies social media ad campaign creation, product catalog synchronization, and product sales via TikTok's in-feed videos and LIVE broadcasts, tapping into a potential customer pool influenced by #TikTokMadeMeBuyIt.
Instafeed
Instafeed lets you seamlessly integrate customizable Instagram feeds into your store. By showcasing Instagram content, it enhances social proof, boosts conversions, and fosters Instagram following while automatically refreshing your store with new content.
Analyzely
Analyzely simplifies Google Analytics 4 integration for your store, offering comprehensive event tracking, standard & e-commerce reports, and GDPR-friendly tracking. Gain valuable insights into visitor behavior and enhance your e-commerce strategy effortlessly.
GroPulse Rich Snippets for SEO
GroPulse Rich Snippets for SEO enhances your store's Google search results with rich snippets, boosting click-through rates and organic traffic while reducing marketing costs. Utilizing JSON LD for data encoding enhances your website's visibility and boosts its search engine rankings, resulting in more efficient data management.
WooCommerce (WordPress)
One of the leading and most popular choices in the eCommerce platform is WooCommerce, which operates as an eCommerce plugin for WordPress. It's free and open-source, making it accessible to everyone, even those who want to build small business website.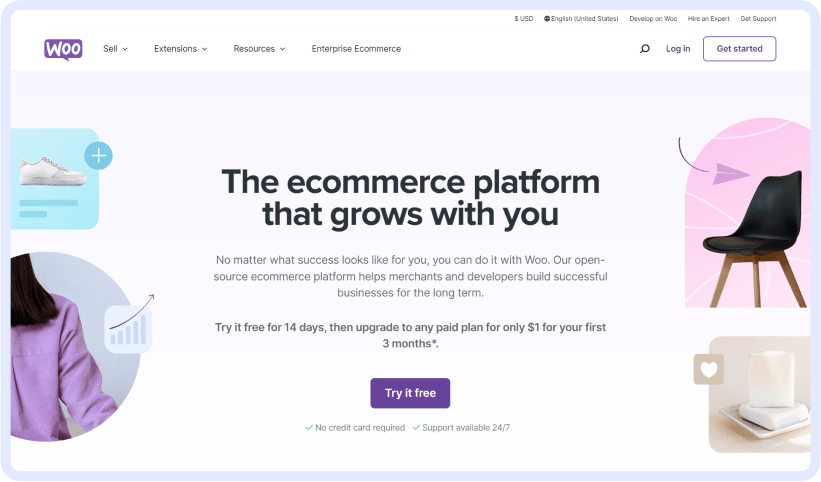 WooCommerce presents diverse features and functionalities, making it an appealing option for both novices and seasoned users. With the inherent flexibility of WordPress, you can effortlessly customize your online store to cater to your unique requirements.
Moreover, WooCommerce boasts an intuitive interface that empowers even the less tech-savvy individuals to construct and oversee their eCommerce stores effortlessly.
It offers a variety of payment gateway options, including PayPal, Stripe, and Square, making it convenient for customers to make purchases.
With a vast community of skilled developers and experts, finding assistance and resources is effortless in case you encounter any challenges or require aid with customization.
The platform constantly evolves with regular updates and improvements, ensuring your store stays up-to-date with the latest eCommerce trends.
Selecting the optimal website builder is paramount to the triumph of your eCommerce store. With its features, flexibility, and ease of use, WooCommerce stands out as the ultimate choice to create an online store from scratch.
Features:
Offers a simple installation process, even for those with minimal technical knowledge.
You can sell physical and digital products, variations, affiliate goods, and more.
Highly customizable, with various themes and extensions available.
Supports major payment gateways and provides options for offline payments.
Offers various shipping options and tax settings.
Easily manage your inventory, including stock levels and backorders.
Provide detailed reports on sales, stock, and customer behavior.
Integrated tools for discounts, coupons, email marketing, and more.
Regularly updated for security, and you can add SSL certificates.
Offers responsive designs for mobile shoppers.
Scales with your business, whether you have a few products or a large catalog.
Supports multiple languages and currencies for global sales.
A vast library of extensions for added functionalities.
Pros and Cons
Pros:
WooCommerce is user-friendly and easy to set up.
It offers a high degree of customization with themes and plugins.
A vast library of free and paid extensions to add functionality.
It can handle both small and large online stores.
Built with SEO in mind, which can help your products rank in search engines.
Community and Support: A large and active user community with plenty of resources and support.
Cons:
You need to manage your own web host, which can be complex and costly.
Regular updates and maintenance are required.
While the core is free, costs can accumulate with premium themes and plugins.
Recommended WooCommerce Themes and Apps
You can discover a wide range of themes and apps for WooCommerce designed to elevate your online store's functionality and enhance the customer experience.
Here are some of our top picks for recommended WooCommerce Themes and plugins:
WooCommerce Themes
WooCommerce Themes are pre-designed templates that you can use to customize the appearance of your eCommerce website. These themes provide your online store a professional and attractive look, making it stand out from other websites.
Astra
Astra is a lightweight and highly customizable WooCommerce theme known for its speed and performance, making it an ideal choice for building fast-loading online stores with a seamless user experience.
OceanWP
OceanWP is a versatile and highly customizable WooCommerce theme known for its speed and compatibility with popular page builders.
WooCommerce Plugins
WooCommerce Plugins are used to add extra features that are not available in the WooCommerce core. Here are some popular WooCommerce plugins to assist you in improving your online store.
Elementor
Elementor is a leading WordPress website builder plugin that enables easy drag-and-drop website design, making it a popular choice for creating dynamic and visually appealing web pages.
ShopLentor
ShopLentor is a versatile website builder plugin designed to enhance WooCommerce websites with features like customizable product templates and collections of widgets, blocks and modules, making it an excellent choice for e-commerce businesses looking to optimize their online stores.
Whols
Whols is a powerful WooCommerce plugin that simplifies B2B order management. Online store owners can utilize this plugin to establish wholesale pricing and streamline bulk purchasing processes. With exclusive wholesale rates, registered wholesalers can enjoy a seamless and convenient shopping experience.
HT Easy GA4
HT Easy GA4 is a plugin that simplifies the integration of Google Analytics 4 (GA4) tracking into WordPress websites, providing valuable insights and analytics data.
Genix
Support Genix is a comprehensive WordPress support ticket plugin that streamlines customer service operations by managing and tracking ticket requests directly from the WordPress dashboard, enhancing customer engagement and efficiency.
Webflow
Webflow is a cutting-edge web design and website builder platform that empowers users to create websites with the power of drag and drop editor, all while working within an intuitive visual canvas. It eliminates the need for traditional coding skills, generating clean and semantic HTML, CSS, and JavaScript that's ready for publishing or collaboration with developers.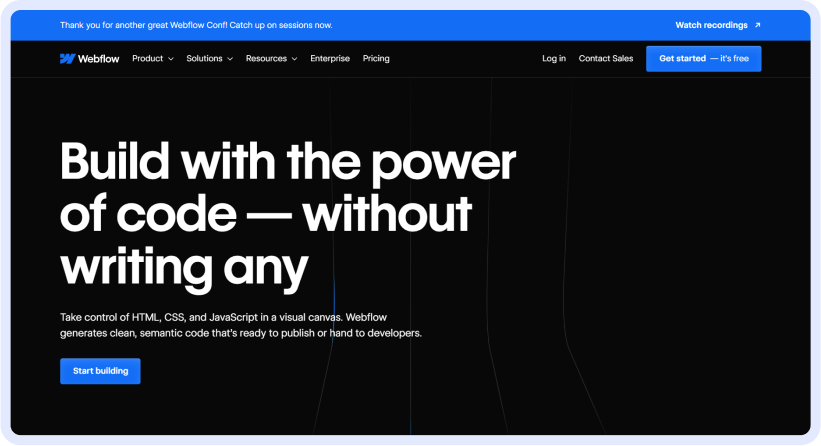 With Webflow, you can design, build, launch, and update websites at the speed of business without the costly overhead of hiring developers or managing infrastructure. This platform provides complete control over the user experience, ensuring your sites are always on-brand.
Trusted by over 200,000 leading organizations, Webflow offers advanced collaboration tools, scalable solutions for growing businesses, dedicated support, and robust security and compliance features, making it an indispensable asset for web designers, developers, and businesses looking to create impactful and conversion-optimized websites.
Features:
Intuitive visual canvas for web design without the need for coding skills.
Design, build, launch, and update websites quickly.
Eliminates the need for traditional coding skills.
Ensures that websites are always on-brand.
Offers scalable tools for growing businesses.
Provides dedicated support for users.
Includes robust security and compliance features.
Pros and Cons
Pros:
User-friendly visual design interface.
Eliminates the need for traditional coding skills.
Speedy website development and updates.
Control over the user experience.
Robust security and compliance features.
Dedicated support.
Cons:
Can have a learning curve for complex designs.
Some limitations in custom functionality.
Not ideal for highly complex web applications.
Limited e-commerce capabilities compared to dedicated platforms.
Recommended WebFlow Templates and Apps
Webflow Templates
Etonal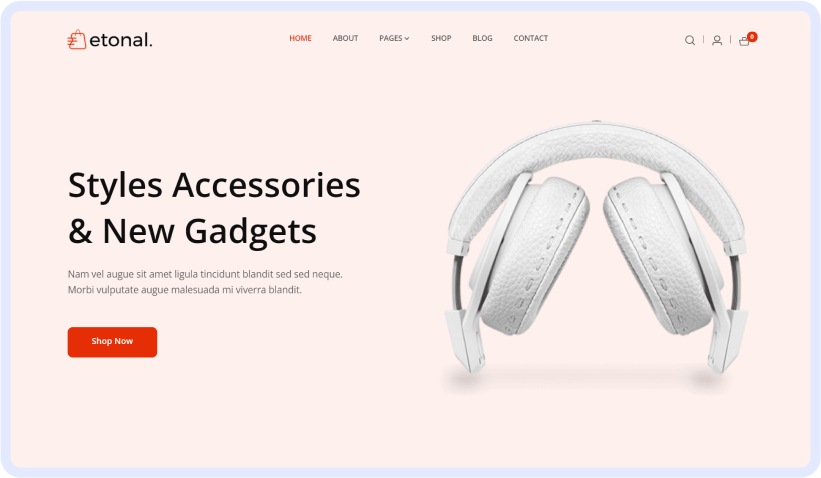 Etonal, a Webflow eCommerce template, empowers you to create online store. This template offers robust functionalities and all the essentials to create an impressive eCommerce shop website.
Bokify
Bokify is an exclusive Websflow eCommerce template uniquely designed for book stores. It comes with 29 pages, including 17 static pages, 4 CMS pages, 5 eCommerce pages, and 3 utility pages.
Qlonil
Check out Qlonil – a sophisticated eCommerce website template in the Webflow platform. This fashion template includes essential features and pages for your business needs.
Pinaf
If you're in search of an eCommerce website template tailored for online plant and flower sales, look no further than Pinaf. This user-friendly Webflow template boasts a sleek and contemporary web store design.
Farnic
Farnic is a unique Webflow eCommerce template designed to create a state-of-the-art online furniture store.
Webflow Apps
Unsplash
The Unsplash app allows users to easily insert stunning images from the Unsplash library into their web designs. It provides a feature-rich experience with simple search and filtering options, helping you find specific images that match your project. With quick presets for randomized image insertion, Unsplash adds creativity and visual appeal to your designs.
Memberstack
Memberstack offers seamless integration with Webflow, granting users easy access to Memberstack functionality and data attributes right from within the Webflow platform.
Optomate
Optomate is a highly regarded website audit and monitoring tool tailored specifically for Webflow websites. Trusted by top Webflow agencies and freelancers, it streamlines the process of identifying page-by-page issues, ensuring that your Webflow sites not only look impressive but also perform optimally.
Hexacom
Hexacom is a multi-branch supported single vendor eCommerce management system that offers a complete solution for online businesses. It includes a powerful admin panel, branch panels, a user-friendly website, and dedicated user and delivery man apps.
What sets Hexacom apart is it fits best for fashion and accessories eCommerce. The admin panel simplifies the management of your entire eCommerce operation, from adding products and branches to support for both LTR and RTL languages, multi-branch functionality, self-pickup, and home delivery support.
It also includes delivery coverage area settings, rich analytics and reporting tools, multiple payment gateways, multilingual capabilities, and a range of features like chat, coupon, tracking, reviews, and push notifications.
Hexacom is dedicated to providing exceptional support and consistently enhancing its features in future releases, making it the perfect choice for businesses looking to accelerate their single-vendor eCommerce.
Features:
Clean and maintainable coding structure.
Elegant, clean, and user-friendly UI design.
Supports both LTR (Left-to-Right) and RTL (Right-to-Left) languages.
Includes a complete user app and delivery man app.
Supports multi-branch operations with a branch panel.
Defines delivery coverage areas.
Powerful admin panel built with Laravel Framework.
Provides rich analytics and reports.
Offers multiple payment gateway options.
Supports multiple languages.
Includes promotional features like banners, coupons, and push notifications.
Pros and Cons
Pros:
Built-in Free POS System for manual orders.
In-house delivery management.
Digital payment, COD (Cash on Delivery), and self-pickup.
Real-time Social media chats.
Light & dark mode for eye comfort.
Product & order management.
Cons:
Complexity can increase with extensive customization.
Initial setup and configuration may require technical expertise.
The richness of features can be overwhelming for small businesses with simpler needs.
Comparison and Decision-Making Factors
Establishing an online store can feel overwhelming, particularly with the abundance of eCommerce platforms available. However, with careful consideration and selection, this task becomes more manageable. Choosing the right website builder ensures your business's success. Comparing the five best platforms, including 6valley, Shopify, WooCommerce, Webflow, and Hexacom, can provide you with valuable insights to build your online store from scratch.
Regarding user ratings, these platforms have received high marks from their customers. Each has unique features that make them the best fit for certain types of businesses, such as Shopify for dropshipping or WooCommerce for WordPress users.
Additionally, pricing and pricing structures vary among these platforms, which is critical when working with a small business budget. Payment gateway options and SEO/Content marketing features can also make a difference in the long run.
Here's a comparison of the 5 best platforms (6valley, Shopify, WooCommerce, Webflow, Hexacom) to build an eCommerce website from scratch based on various decision-making factors:
User-Friendliness:
6valley: Suitable for multi-vendor setups with complete eCommerce package.
Shopify: Extremely user-friendly with a simple interface.
WooCommerce: Beginner-friendly, especially if you're familiar with WordPress.
Webflow: Great for design-savvy users but might have a steeper learning curve for beginners.
Hexacom: User-friendly, suitable for those looking for a single-vendor solution.
Best For:
6valley: Designed for multi-vendor eCommerce.
Shopify: Best for beginners and quick setup.
WooCommerce: Ideal for WordPress users and those who need a lot of flexibility.
Webflow: Perfect for those who prioritize design control and speed.
Hexacom: Suited for single-vendor eCommerce.
Pricing:
6valley: Customized pricing.
Shopify: Monthly subscription plans.
WooCommerce: Open-source (free), but web host, premium themes and plugin costs apply.
Webflow: Free and paid plans.
Hexacom: Two Licenses available: Regular and Extended License.
Payment Gateways:
6valley: Supports multiple payment gateways, including customization.
Shopify: Provides diverse payment gateways to cater to your needs.
WooCommerce: Supports various gateways through plugins.
Webflow: Supports Stripe and custom solutions.
Hexacom: Multiple Payment gateway options.
SEO and Content Marketing:
6valley: Features available for SEO and content marketing.
Shopify: Offers SEO tools and is known for good SEO performance.
WooCommerce: Benefits from WordPress's strong SEO capabilities.
Webflow: Provides SEO-friendly features.
Hexacom: SEO features not specified.
Customization and Design:
6valley: Modern Design with full customization option.
Shopify: Shopify offers various customization options to tailor users' online stores according to specific preferences.
WooCommerce: Highly customizable, especially with WordPress plugins.
Webflow: Offers extensive design customization options.
Hexacom: Clean and elegant UI design.
Scalability:
6valley: Designed for multi-vendor scalability.
Shopify: Scales well for small to large businesses.
WooCommerce: Scalable with proper hosting and plugins.
Webflow: Suits various business sizes.
Hexacom: Scalability details not provided.
Support and Community:
6valley: Active customer support with six months of free assistance.
Shopify: Offers 24/7 customer support.
WooCommerce: Community-driven support with plugins and forums.
Webflow: Dedicated support and community forums.
Hexacom: Six months of free Support.
When deciding, it is crucial to consider various factors, including your business goals, technical expertise, budget, and specific requirements. Ultimately, these considerations will guide you toward the most suitable choice. Each platform has strengths and may be more suitable for different eCommerce scenarios.
Frequently Asked Questions
Which platform is best for a beginner to start an eCommerce website?
Shopify is often recommended for beginners due to its user-friendly interface and comprehensive functionality. It provides all the necessary tools to start, run, and grow an eCommerce business.
Is WooCommerce free to use?
WooCommerce itself is free, but it requires a WordPress website to operate. While WordPress is also free, you may need to pay for hosting, a domain name, and additional plugins or themes.
Can I switch from one eCommerce platform to another easily?
Switching platforms can be complex, often requiring data migration, reconfiguration, and potentially redesigning your website. It's advisable to research thoroughly and choose the right platform from the outset.
How important are SEO features in an eCommerce platform?
SEO features are essential in any eCommerce platform. By enhancing your website's visibility on search engines, they generate increased organic traffic to your store.
Which platform offers the best customization options?
While all the platforms mentioned in this article offer customization, WordPress (with WooCommerce) is typically recognized for its extensive customization options due to its wide variety of themes and plugins.
Which platform offers a complete eCommerce ecosystem?
6Valley provides a complete eCommerce ecosystem to manage, maintain, and sustain an eCommerce business. 6Valley comes with an admin panel, seller panel, customer website, customer app, and deliveryman app. With 6Valley, you can prepare the website without coding, manage sellers, customers, and in-house deliverymen, etc.
Final Words
In the ever-changing world of eCommerce, choosing the right platform can decide the difference between success and failure for your online endeavor. The platforms presented in this article, from 6valley and Shopify to WooCommerce, offer a broad range of features tailored to different business needs and budgets. Whether you prioritize user-friendliness, functionality, or scalability, there's a platform that's just right for your eCommerce aspirations.
When starting your eCommerce journey, keep in mind that the ideal platform is the one that effortlessly aligns with your business goals, aesthetic, and growth strategies. Harness the power of these platforms to build an eCommerce website from scratch and tap into the limitless potential of the global marketplace.